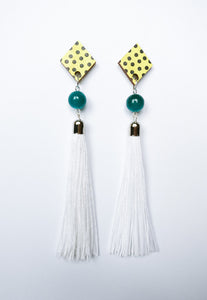 Muoto Earrings White
Regular price $33.00 $14.00 Sale
Törmi Design Muoto Korvakorut
Korvakorun materiaalit:
Koivu
Polyester nauha
Koukut: Kirurgin terästä
Korujen pituus koukun kanssa: 12cm
Nämä Korvakorut ovat ihanan kevyet ja mukavat käyttää.
Vältä kosteutta. Säilytä kuivassa paikassa.
Korvakorut tulevat ekologisessa korurasiassa.
Muoto Earrings by Törmi Design
Handmade tassel earrings
Materials used for this item are:
- Finnish birchwood
- Polyester thread
- Surgical steel hooks
Length of earrings including hook and bead 12cm
Each earring is unique and handmade. The size, shape and color may slightly vary.
These earrings are lightweight and very comfortable.
Avoid contact with liquids. Store you jewelry in a dry place.